The Waters We Swim In is a global photography project consisting in black and white portraits of people immersed in water. The work invites subjects to experience self realization and reconnection while surrendering to the water, while viewers are called upon to discover mutual belonging and interconnection rather than remaining isolated and incomprehensible strangers in an increasingly divisive world.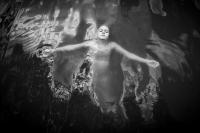 Click thumbnails below to purchase.
This image is offered in an edition of 5. 25% will be donated to Central Camera, Chicago's oldest camera store, which was looted, set afire and destroyed when protests turned to riots this spring. Don Flesch, the third generation of his family to operate the store, is a pillar of the photo community here and does so much quietly and humbly to help so many. I'm pleased to give back with this work. The rest of the funds will support the continued growth of The Water We Swim In.